Prithviraj Film Box Office Collection: Samrat Prithviraj is a 2022 Indian Hindi-language historical action drama film directed by Chandraprakash Dwivedi and produced by Yash Raj Films. The film is based on Prithviraj Raso, a Braj language epic poem about the life of Prithviraj Chauhan, a king from the Chahamana dynasty. It features Akshay Kumar as Prithviraj Chauhan, while Manushi Chhillar makes her Hindi film debut playing the role of Sanyogita. The film also stars Sanjay Dutt, Sonu Sood, Manav Vij, Ashutosh Rana, and Sakshi Tanwar in other pivotal roles.
Prithviraj Film Box OVERALL Office Collection
| Day | India Net Collection | Change(+/-) |
| --- | --- | --- |
| Day 1 [1st Friday] | ₹ 10.7 Cr [Hi: 10.66 Cr ; Ta: 0.02; Te: 0.02] | – |
| Day 2 [1st Saturday] | ₹ 12.6 Cr [Hi: 12.56 Cr ; Ta: 0.02; Te: 0.02] | 17.76% |
| Day 3 [1st Sunday] | ₹ 16.1 Cr [Hi: 16.07 Cr ; Ta: 0.02; Te: 0.01] | 27.78% |
| Day 4 [1st Monday] | ₹ 5 Cr [Hi: 5 Cr ] | -68.94% |
| Day 5 [1st Tuesday] | ₹ 4.25 Cr [Hi: 4.25 Cr ] | -15.00% |
| Day 6 [1st Wednesday] | ₹ 3.6 Cr [Hi: 3.6 Cr ] | -15.29% |
| Total | ₹ 52.25 Cr | – |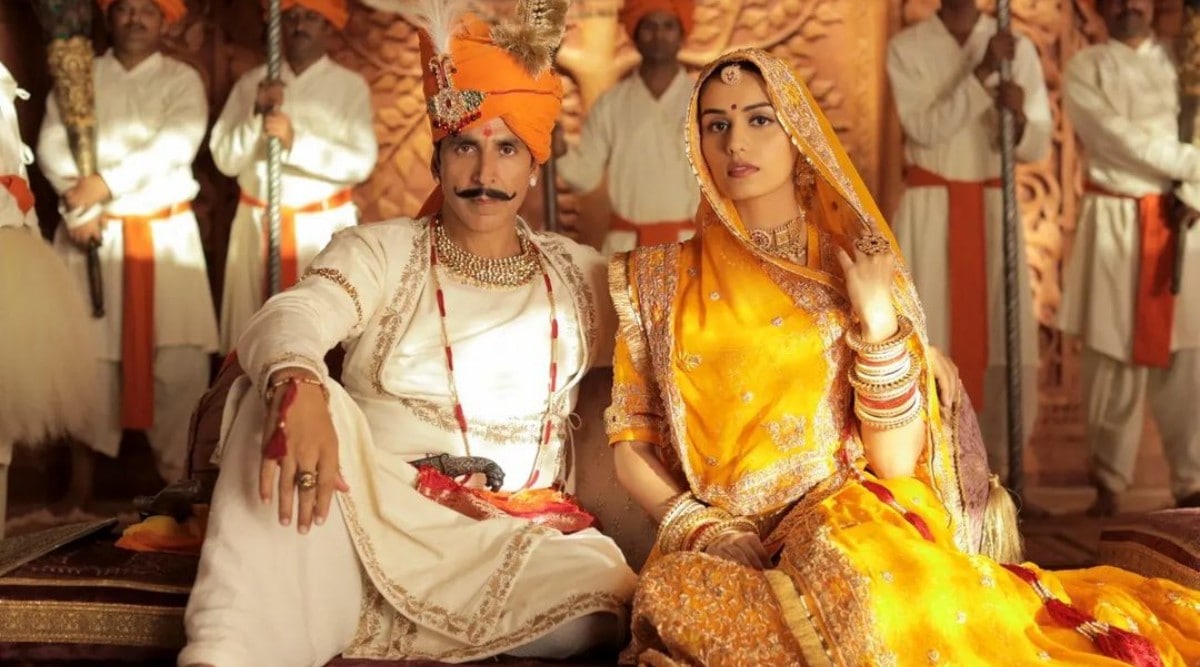 Prithviraj Flim Hindi (2D) Occupancy in main regions Today
| Region | Overall | Morning | Afternoon | Evening | Night | Shows |
| --- | --- | --- | --- | --- | --- | --- |
| Mumbai | 10.25% | 9% | 10% | 10% | 12% | 598 |
| DelhiNCR | 10.75% | 8% | 10% | 13% | 12% | 756 |
| Pune | 7.25% | 6% | 5% | 8% | 10% | 234 |
| Bengaluru | 6.75% | 6% | 8% | 6% | 7% | 158 |
| Hyderabad | 8.75% | 6% | 11% | 9% | 9% | 131 |
| Kolkata | 7.25% | 4% | 7% | 11% | 7% | 172 |
| Ahmedabad | 12.50% | 12% | 12% | 12% | 14% | 283 |
| Chennai | 25.00% | % | 13% | 28% | 34% | 22 |
| Surat | 8.00% | 5% | 9% | 8% | 10% | 159 |
| Jaipur | 12.00% | 10% | 12% | 14% | 12% | 126 |
| Chandigarh | 6.75% | 6% | 6% | 8% | 7% | 87 |
| Bhopal | 6.00% | 3% | 5% | 7% | 9% | 71 |
| Lucknow | 11.00% | 7% | 10% | 16% | 11% | 156 |
PRITHVIRAJ OVERSEAS BOX OFFICE COLLECTION
Australia:
26,852 USD [Rs. 20.86 lacs] from 78 screens
New Zealand 
7,774 USD [Rs. 6.03 lacs] from 23 screens
U.K & Ireland
26,192 USD [Rs. 20.32 lacs] from 95 screens
U.S.A 
75,007 USD [Rs. 58.21 lacs] from 335 screens
Canada
23,496 USD [Rs. 18.23 lacs] from 43 screens
PRITHVIRAJ WORLDWIDE BOX OFFICE COLLECTION
60 Crores Gross Worldwide
Check Prithviraj Film Box OVERALL Office Collection Here
PRITHVIRAJ DAYWISE BOX OFFICE COLLECTION 
Day 5:

4.25 Crore Producer Figure
4.25 Crore Trade Figure

Day 4:

5 Crore Producer Figure
5 Crore Trade Figure

Day 3:

16.1 Crore Producer Figure
16 Crore Trade Figure

Day 2:

12.6 Crore Producer Figure
12.5 Crore Trade Figure

Day 1:

10.7 Crore Producer Figure
10.6 Crore Trade Figure
Prithviraj Film Audience reviews
There were Mixed Opinions for the Prithviraj Flim, The Reviews are given below
By Hetvi Shah
    
Akshay Kumar is only interested in making quick bucks rather than leaving a mark of his work.

okish movie...

except 2 or 3 scenes whole movie feels tedious and that charm is missing

History movies are v well made by Sanjay leela bhansali and Rajamouli sir  better be made by them..this one looks cheap replica

coming to the acting portion, Manushi cant act at all...she dances well but acting worst totally wasted...and Mr Zubaan kesari never felt like Prithviraj he couldnt convince the audience the role he was playing he was looking so dull and by god Sanjay dutt is most diappointing work till date from Munnabhai Kgf to this damn howwww worst acting is done by sanjay...sono sood was still good not brilliant but still good s loud dialogue delivery necessary to portray a king on a big screen? Obviously not, as Dr. Chandra Prakash Dwivedi ji said in an interview regarding the dialogue delivery of Akshay as Samrat Prithviraj The problem is that no one can do justice with such a great personality SAMRAT PRITHVIRAJ CHAUHAN story in a single movie...such historical movies either should be made as a series instead of a single movie so that audience get to know more about such great personality in detail and the makers will also get a leverage to show the story in a more efficient way....or such historical movies should be made as a WEB SERIES which can further be sub divided into seasons so that the makers can do justice with the storythat Samrat Prithviraj himself was very calm and coolheaded, not aggressive in nature. So how could he deliver those dialogues in aggression I think this movie defines the importance of Casting Director in a movie. A better casting would have done better justice to the movie everybody wants to make an action movie with the patriotic feeling but the aura and grandeur feeling is something only a few people in bollywood can do and for the research part they did it for 18 years what a joke ory is only 30% true If they had read any normal book of Rajasthan history they would have come up with more accurate story

Akshay Kumar Mr Zuban Kesari 
Making film in 40-45 days results in movie of Rs 45-50
So proud of finishing the film so early? Film was sold because of maharaja prithvi raj, i hope akshay works on himself amd starts working more on film and takes time to make things better what a joke...and making this movie commercially hit is far far thing after your zuban kesari thing..You lost all the Respect...what  shame if this film were smootly created at least 2-3 years (not in just 40 days) and then its producer had been rajamouli, this film on the first day could earn 300 crore, and in total (worldwide) this film would have earned over 2000 cross When you work 3 films a day that's what happen quality > quantity Such a great Samrat should have been portrayed with dedication. In my opinion these type of historical movies should not cast Akshay because he is always in an abnormal rush ( maybe to make more money)  and do not dedicate himself to the character he is playing.and also The climax scene was totally incorrect.. Chand Bardai traveled to Ghazni and tricked Muhammad of Ghor into watching an archery performance by the blind Prithviraj. During this performance,  Prithviraj shot the arrow in the direction of Muhammad's voice and killed him. Shortly after, Prithviraj and Chand Bardai killed each other.

2/5

Avoid it and watch something better instead
By Mukesh M

    
Be Proud that we are a Part of the same History where Rare Men Like Samrat Prithviraj - The Lion Of India walked some day.
Those were the days of purity, stature and having a spine rather than a designation.
what you see might surprise you that such rare men existed.

This is a movie which needs to be seen by each indian to understand what Kindness ,Integrity ,Valour and a Mans Word meant in history.
I will repeat watch it, when on OTT, 

Its about the life of a True Hero and YRF ,Akshay Kumar and the cast have done Complete Justice to each moment of the movie.

Akshay Kumar will be remembered for this role especially the blind part and as the just king who wont budge when it comes to standing by your values and truth.

Sanjay Dutt cannot be missed even for a minute, this is a character he was picked tailor picked for him.
Sonu sood shows he has intensity to be composed and poised in most scenes.
mansi chillar has portrayed the queen brilliantly she shines when she puts her side of thought before the panch.
you couldnt miss manav vij in andhadhun and wont miss this factastic actor in here either.

The ONLY Drawback - YRF made this movie YET another Chaayageet with too many songs even during the time of a Queen taking her sati practice.

A few scenes are cliche but can be compensated by the essence of the movie 

i could had skipped the movie watching the negative reviews and especially after Akshay kumar doing rubbish movies like bachan panday, but  reviews even said RRR was fantastic ,so i decided to watch it before i put a review 

For Honest UnBiased Reviews
Follow "Filmy Kachua" on You Tube and Instagram
By Ashish Vaidya
    
🔥BEAUTIFULLY CRAFTED HISTORICAL EPIC WORTH YOUR TIME FOR SURE 🔥


One of the best movie offered by Bollywood in past few years. The casting, direction, music, war scenes, cinematography, dialogues, acting, historical sets etc all components just feel amazingly perfect. Theatre experience further uplifts the overall weight of the movie to spine chilling dimensions. Akshay Kumar and manushi chillar have given splended performances, especially Akshay Kumar. He really feels like real prithviraj chauhan. One of the most asthetically pleasing Bollywood creation. The grip in the first half is amazing. It slightly looses the momentum in the second half but eventually regains that during the climax. In conclusion a great historical movie that every Indian must watch in theatres !!
By Sahil Kokane
    
HISTOMAZE....!
⭐⭐⭐1/2
Honestly its a very good movie. But if you know the history you may found something incomplete. But if you don't know history you will definitely loved this movie. Climax and entry scene is mind blowing. Akshay Kumar performance is ok but also top notch. Sanjay dutt was amazzzing, Sonu Sood awesome, manushi chillar tried good. Direction is awesome. Screenplay is fine. Writing is fantastic. Music: had kar de and makhmali was awesome and soul music of this music and BGM is powerful. Dailouges of this movie is toop notch. As per the runtime you will not even get bore or sleepy while watching this movie. Overall this is all audience movie and everyone can watch this movie very comfortably. Other support cast was also good. Overall it's a fine n worth movie for family. Must watch if you are interested in history.
@akshaykumar @yrf @manushi_chhillar @sonu_sood @duttsanjay
By Ashwani Singh

one of the aesthetically best period film, i have seen in recent. love the way this film unfolds the narrative and dialogues of this film is the best and few moments makes you emotional and have potential to make your eyes teary. I liked Akshay as Prithviraj, he carried it brilliantly. Manushi is the discovery, she surprises you by her performances. Sonu Sood delivers best. Sanjay Dutt, Ashutosh Rana, Sakshi Tanvar, Manoj Joshi and Manav Vij as Sultan.. all are superb in their character and did justice to them. Film' look, costume, visuals are great and take you to that era of Prithviraj.

Music is another shining part of it, I loved the Title track and then aigiri nandini by Alap Desai. Editing by Aarif Sheikh is good. 

Hats-off and big big salute to Dr. Chandraprakash Dwivedi for this brilliant film.
---
Also, Read
ADVERTISEMENT  


  


  CONTINUE READING BELOW